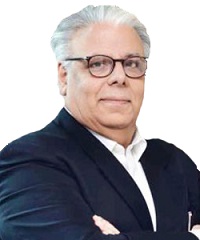 Dr. (prof.) Vinod Raina
MD (AIIMS), MRCP, FRCP, Ex. HOD, Department of Medical Oncology at AIIMS Delhi.Chairman Oncosciences – PAN Fortis Executive Director & Head of Medical Oncology & Haematology Fortis Memorial Research Institute, Gurgaon.
Dr. Vinod Raina is one of India's Foremost Medical Oncologists with more than 38 years of experience in the field of Medical Oncology. A renowned powerhouse of knowledge and experience. Dr. Raina was previously at All India Institute of Medical Sciences, New Delhi (AIIMS) as Professor and Head of Medical Oncology. He has performed approximately 250 stem cell transplants personally and under his headship at AIIMS performed the largest number of transplants in India for various cancers from 2000 to 2013. He also brings tremendous research experience and was Principal Investigator of approximately 50 projects at AIIMS for 24 years. He was also the Co-Founder of the INDOX network. His students whom he had mentored at AIIMS are in the leading position in India and abroad.
Dr. Vinod Raina joined FMRI in the year 2013 as Director and Head of Medical Oncology and Haematology. He was promoted to Executive Director in the year 2017 and Chairperson of Oncosicences – PAN Fortis in the year 2020.
WORK EXPERIENCE:
Head, Department of Medical Oncology at AIIMS (2007-2013).
Professor, Department of Medical Oncology at AIIMS (2001-2013).
Head, Cancer Centre, Royal Hospital, Muscat, Oman 2 years and 4 months (2001-2004).
Started and conducted DM course in Medical Oncology at AIIMS since 1996 and trained about 60 DM students, these students are holding consultant positions at important places in India and abroad.
Guided 3 Ph.D students at AIIMS.
Transplant; Performed first high dose chemotherapy and peripheral blood stem cell transplant in India in 1994, till now have personally performed approximately 250 transplants including approximately 70 allotransplants for various cancers.
Associate Editor of Annals of Oncology (2008-2011).
Hon. Research Fellow of Oxford University for 5 years (2005-2010).
Headed Delhi Cancer Registry at AIIMS for 5 years (2005-2010).
Headed Record Section of IRCH at AIIMS for 3 years.
Was adjudged the best consultant at FMRI in 2016.
EDUCATION AND FELLOWSHIP:
MBBS, Government Medical College, Srinagar, Jammu & Kashmir 1974.
MD (Medicine), AIIMS 1977.
Senior Residency, Medicine and Haematology; AIIMS 1978-1980.
MRCP-UK 1987, FRCP (Ed.) 1994, FRCP (London) 2013.
Clinical Research Fellow, Medical Oncology, Glasgow 1986-1989.
On faculty of AIIMS from January 1990 to March 2013.
Fellowships in various aspects of Oncology, UK, USA, and Canada.
SPECIALITY:
All adult cancers with a special interest in Breast Cancer, Lung Cancer, GI Malignancies, Genitourinary Cancer, Lymphoma and Bone Marrow, and Stem Cell Transplant.
AWARDS AND HONOURS:
Has received many national and lifetime achievement awards.
RESEARCH AND PUBLICATIONS:
Principal Investigator of approximately 50 projects in AIIMS, the largest number.
Received research funding from Oxford University, University of London, NCI-USA, DBT, ICMR, and others during tenure at AIIMS.
Approximately 200 publications in Indian and International journals like Lancet, Journal of Clinical Oncology, Annals of Oncology B.J. Cancer, etc.
Proceed for opinion from Stalwart