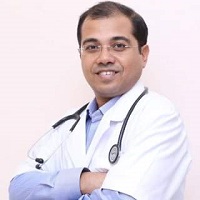 Dr. Arvind Kumar
MD, DM (Medical Oncology- AIIMS Delhi ). Director at Buddha Cancer Centre Patna.
Consultant Hemato-Oncologist/ Oncologist. Specialist in Hematological Malignancy, Solid Tumor, HSCT/ Bone Marrow Transplant.
Dr. Arvind Kumar is an eminent Medical Oncologist and has been trained at AIIMS, New Delhi. He has done DM in Medical Oncology from AIIMS Delhi and he is the first DM in Medical Oncology in Bihar who has returned to his native state after getting a DM degree. He has nearly 12 years of experience in the field of Medical Oncology with elaborate experience in treating patients with Hematological Malignancy (Leukemia, Lymphoma, and Multiple Myeloma), Solid tumors (Head and Neck Malignancy, Gastro-Intestinal Malignancy, Breast Cancer, Lung Cancer, and Genito-Urinary malignancy), Bone Marrow Transplant (HSCT), Palliative and Best supportive care. Apart from the treatment of Cancers he also has expertise in the management of complications arising from chemotherapy. He had presented his research work at national and international conferences, published his research work in reputed international journals. He has decided to serve his native people with evidence-based practice and a diagnosis and management that is at par with any Cancer center in India.
Dr. Arvind is president of Cancer care and cures public charitable Trust. This trust had conducted a cancer awareness seminar among physicians and surgeons all over Bihar especially among the rural practitioners so that they could detect cancer at an early stage and hence patients can be cured. Also conducted cancer screening camps in different parts of Bihar. Dr. Arvind Kumar was Lao the organizing secretary of the National conference of Molecular Oncology " MOSCON" in 2019 at Patna. In this National conference, eminent oncologists and cancer researchers from all over India had participated.
He is the founder Director and Senior Medical Oncologist at Buddha Cancer Centre, Patna.
Educational Qualifications:
DM (Medical Oncology) All India Institute of Medical Science (AIIMS), New Delhi, India.
Senior Resident (Medical Oncology) All India Institute of Medical Science (AIIMS), New Delhi, India.
MD (Internal Medicine) Patna Medical College and Hospital, Patna, India.
MBBS, Medical College Kolkata, Kolkata University, India.
Work Experience in Medical Oncology:
I had more than 12-year experience of in inpatient and outpatient management of diverse oncology conditions and performed more than 30 hematopoietic stem cell transplantation under the guidance of esteemed faculties. Extensive exposure in all forms of adult and pediatric oncology as working in the tertiary care center. I have been trained to perform PCR, ELISA, IHC, cytogenetics, flow cytometry, and HLA typing in our laboratory under guidance. Personally, I am interested in Head and Neck malignancies, lung cancer, Gall Bladder cancers and laboratory research in the field of oncology, and future ambition to serve my native state Bihar.
Research work/Fellowship:
A phase to randomized study to compare short course palliative Radiotherapy with short course concurrent palliative Chemotherapy plus radiotherapy in advanced and unrespectable head and neck cancer.
PUBLISHED in The Green Journal.
To study the gene expression profile of advanced Gall Bladder Cancer, Broad Area: Translational.
Fellowship/ Paper presentation:
Had attended many ESMO preceptorship abroad and got an opportunity to be trained under oncologist from Europe.
Presented research at ESMO Indian Cancer Congress.
Membership:
Position Hold:
Director of Buddha Cancer Centre Pvt Ltd.
Consultant Medical Oncologist, Paras HMRI, Hospital, Patna.
President of "Cancer Care & Cure Public Charitable Trust".
Proceed for opinion from Stalwart