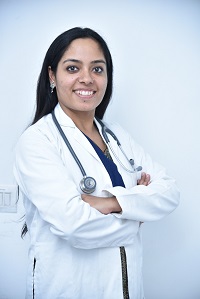 Dr. Priya Tiwari
MD, DM (Medical Oncology, AIIMS, Delhi). Senior Consultant, Department of Medical Oncology, Artemis Hospital Ex Consultant of Medical Oncology at Fortis Memorial Research Institute. Gurgaon, India.
Field Of Interests:
Gynecological malignancies including Breast cancer.
Genitourinary malignancies.
Colorectal malignancies.
Palliative care and end of life care.
Cancer immunotherapy.
Cancer genetics and precision medicine.
Lymphoproliferative disorders.
Had published a number of research papers in the National and International Journal.
Awards and Honors:
ESMO certified Medical Oncologist (cleared ESMO Examination held on 26th September 2015 in Chennai, India )
Gold medal for securing maximum marks in the total of all the three professionals MBBS examination.
Attended Preceptorship on kidney cancer in Taiwan: 5-7 July 2018
Received travel grant for preceptorship on immunotherapy in Lund, Sweden (4-5 December 2015)
Received travel grant for ESMO Asia, held in Singapore (18-21 December 2015)
Received travel grant for ESMO Asia held at Singapore (16-19 December 2016)
Bhagwan Das Thakur Das gold medal for standing first in MBBS final exam 2006.
Prof J.K Agarwal U.S.V. gold medal for securing highest marks in the subject of Medicine at MBBS final exam 2006
University prize for securing highest prize in MBBS second professional in the year 2004
Mrs. Sasikala Award for the best outgoing female candidate of Institute of Medical Sciences in the year 2006
Membership:
Associate Editor of Indian Journal of Social, Preventive and Rehabilitative Oncology (IJSPRO)
Member of European Society for Medical Oncology (ESMO).
Member of American Society of Clinical Oncology (ASCO).
Member of Immuno-oncology society of India.
Member of MASCC Society of India.
Others:
Certificate in Essential Good Clinical Practice online training and exam by Brookwood International academy.
Attended International Collaboration for Research Methods Development in Oncology (CReDO) workshop, an intensive residential 5-day protocol development workshop held between 22nd and 26th November 2015 at Lonavla near Mumbai, India
Attended European Multidisciplinary Urology Conference organized in Milan, Italy from 24-27 November 2016.
Multiple presentations in international and national conferences.
Proceed for opinion from Stalwart