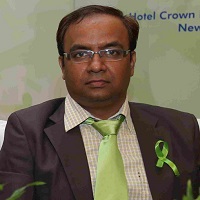 Dr. Rayaz Ahmed
MD, DM (Clinical Hematology-CMC Vellore), Ex. Associate Professor, Dept. of Hematology, CMC-Vellore. Senior Consultant at Department of Hemato-oncology & Bone Marrow Transplant Rajiv Gandhi Cancer Institute and Research Centre, Delhi, India.
Dr. Rayaz Ahmed has been trained in CMC Vellore and has a special interest in Stem cell transplant/ Bone Marrow Transplant. He is having more than 15 years of experience in Stem cell Transplant including Allogeneic, Autologous, MUD (Matched Unrelated donor), and Haplo Stem Cell Transplant. He had received training & fellowship in Bone Marrow Transplantation from CMC Vellore. He was an Ex. Associate professor at CMC Vellore.
Specialized Areas:
All types of Blood cancer, Lymphoma, Multiple myeloma.
Matched Sibling donor Stem cell transplant.
Matched Unrelated Donor Stem cell Transplant.
Haplo (half-matched) Stem cell Transplant.
Zytiga in prostate cancer – Phase IV study.
Hematological disorders including Aplastic Anemia and Thalassemia Major.
Achievements
Credited with the start of multiple pioneers works in the field of Haemato Oncology and organized training in this field at the global level.
Proceed for opinion from Stalwart